This seems to be a topic for debate at the moment. Julie Batten of
Klick Communications
wrote a pretty convincing article on
ClickZ
last month, in which she talked about the integrated structure that an agency could offer, bringing to the table expertise that could only be replicated by hiring an entire team in-house, which for 99.9% of businesses is not an option. She also talked about the increased return on investment (ROI) that could be achieved by outsourcing, along with the fostering innovation, reserving capital and time saving that can be invested in focusing on your core.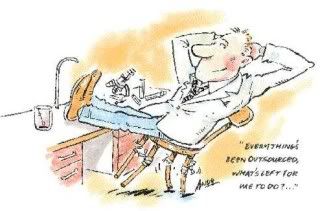 Despite the overwhelming argument outlined in the article and multiple other articles out there, there is still much resistance from business owners to let go of their PPC and SEO efforts for reasons that don't necessarily make sense to me. Okay, I can understand that some company's may have had their fingers burned by hiring a shady company, however, there are plenty of legitimate Search Marketing specialists and PPC shops, with a great reputation of delivering upon their clients objectives. So, given a little bit of research this issue can be avoided and the argument should not stand.
The bottom line is this: If you have a tooth ache, you go and see a dentist. If you need your can fixed, you go to a mechanic. This should not be any different with marketing.
Search Marketing is important and the difference between success or failure in this area could make or break a company. With that said, I can not understand why this is even a debate.
I would love to hear from you with your outsources experiences, good or bad.
Sphere: Related Content